Amped up whipped cream is a perfect topping for pumpkin pie or pumpkin spice lattes.
Try this fruity take on traditional tiramisu.
This upscale side dish from Chef & the Farmer's Vivian Howard features tender scallions with fresh herbs and Parmesan croutons.
Fresh strawberries, chocolate and cream cheese come together for a delicious dessert.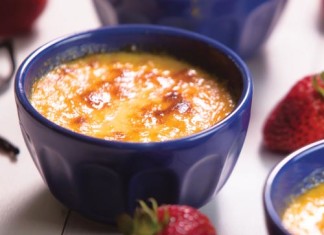 Classic creme brulee gets a sweet upgrade with honey and fresh berries.
The fall flavors of pear and cranberry come together in this pretty pink dessert, enhanced by almond liqueur.
Flour is commonly a thickener in creamed corn, so canned versions are not gluten free. Here's a recipe to make your own gluten-free creamed corn.
This decadent French dessert for chocolate pots de creme is easier than you think.