Learn how to make your pumpkin carving last with these simple tips and tricks.
Learn how to carve a watermelon bowl for a pretty fruit salad presentation.
Last year I began my quest for expert tomato preserving processes. Here's what I learned about how to can tomatoes using the water bath method.
Learn how to pick out fresh produce at the farmers market with our helpful tips and tricks.
Watch a quick video on how to make our Double Chocolate Nut Clusters.
Learn how to shave chocolate for an easy, impressive garnish.
Learn how to chiffonade basil, which means to cut it into thin, pretty ribbons.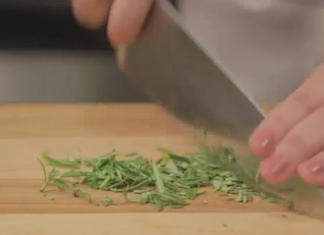 Learn how to chop fresh rosemary and add flavor to your favorite sweet and savory dishes. Plus, get a few of our favorite rosemary recipes.