Did you know that June is National Dairy Month? Celebrate with these mouthwatering dairy recipes.
If you like s'mores, you'll love these chocolate-dipped s'mores ice cream sandwiches laden with marshmallows and vanilla ice cream.
A sweet summer treat, this sorghum ice cream uses an all-natural syrup that's rich in potassium and protein.
Get the taste of a Goo Goo Cluster in pie form! This frozen dessert is sure to please fans of the Tennessee candy.
Make this easy ice cream pie recipe that has a chocolate cake and dark chocolate fudge frosting crust.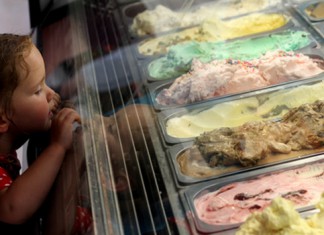 Dairy farmers in Maryland have formed the nation's first farm-based ice cream trail.
Almost more like a frozen custard, you don't need an ice cream maker to enjoy this cool, refreshing summer dessert that pairs avocado and lemon.
Indiana, the second largest ice cream production state in the nation, is home to a spectrum of ice cream production from local on farm natural flavors to traditional comfort flavors on the grocery store shelves.