Home
Tags
Jalapeno peppers
Sweet and spicy Pineapple Corn Salsa is great as a topping for hot dogs or a dip.
This traditional Israeli dish is a hearty breakfast packed with flavor.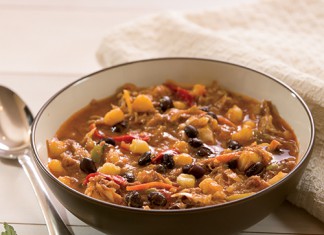 Give life to leftovers! Combine leftover barbecue with veggies and spices for a zesty, hearty soup.
Simple grilled chicken thighs are topped with a sweet-spicy blueberry salsa for a tasty summer meal.
This blueberry corn salad's sweet and savory honey-lime dressing gives a burst of fresh flavors to your taste buds, and it goes well with just about any grilled meat.
Try this twist on traditional salsa using sweet corn, flavorful black beans and a tangy lime and cilantro dressing.
This easy salsa packs a spicy punch, cooled down by the sweetness of the berries and watermelon.
Crunchy peanuts mix with spicy jalapenos and a cool dressing for this refreshing slaw.