Fresh raspberries, blackberries and a raspberry vinaigrette are featured in this sweet summer salad.
Satisfy your salty snack craving with easy, healthy kale chips instead of regular potato chips.
Tried and true pesto is made with lots of basil and pine nuts with olive oil, Parmesan, and garlic, but for these recipes, basil is exchanged with another dark leafy green, and expensive pine nuts are substituted with other kinds of nuts.
Fresh spring vegetables combine with cheesy tortellini in this chilled pasta salad.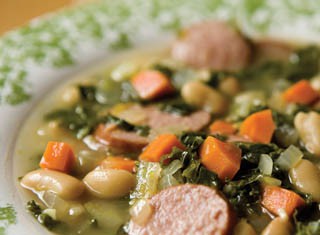 Cozy up with this savory seasonal soup that uses kale, a popular spring green.
Mix any greens together with a citrus vinaigrette, snow peas, grapes and feta for a sweet, simple salad.
Go green for the environment, but also for good health. Here are four recipes that call for spring greens – and these go way beyond salad.
This simple saute combines nutrient-rich kale with garlic, onion and a little bit of spice for a flavorful, healthy side dish.