Green beans, wax beans, kidney beans and garbanzo beans are featured in this Four Bean Salad.
Filling turkey and seasonal pumpkin are the star ingredients of this spicy, flavorful chili.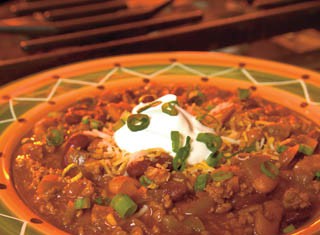 A classic, no-fuss chili recipe that gets down to the basics- pinto and kidney beans, savory garlic, pungent onions and sweet bell pepper.
Select your favorite pasta to use in this beef and vegetable soup with just a hint of spiciness.
Garden-fresh green beans and edamame (green sweet soybeans) star in a traditional four-bean salad with an Asian twist.