Learn how to make your own fresh mozzarella cheese at home in just 10 quick and easy steps.
Fresh zucchini takes the place of pasta in this summer salad.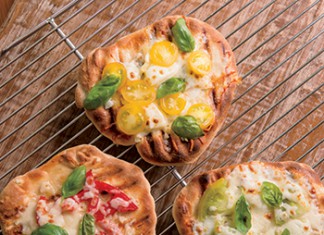 Colorful tomatoes and mozzarella cheese are highlighted by fresh basil in this perfect summer pizza recipe.
Use fresh cauliflower and broccoli in this filling, tasty quiche.
These Mini Caprese Salad Kabobs will disappear in no time at your next party.
Tomatoes, garlic and basil combine for a flavorful chunky tomato sauce that pairs nicely with al dente spaghetti or your other favorite pasta.
Fresh grilled eggplant is added to traditional caprese salad for a summer twist.
Put those eggplants to use with our breadcrumb-crusted, pesto-laden take on the classic eggplant Parmesan.