Fresh parsley and mint make a tasty sauce that goes great on lamb burgers.
They believe olive oil will be Oregon's next big hit.
Olives, canola, nuts and seeds add flavor to Georgia ag economy.
The fresh fruit and vegetable combination is paired with a variety of fresh herbs, making it easy to stay healthy without sacrificing flavor.
Add a little kick to chicken fingers with the simple and tasty Cajun dipping sauce.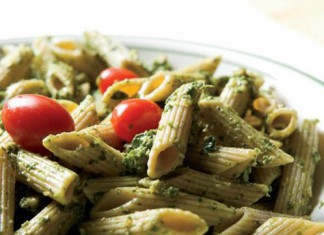 Combine in-season spinach leaves with peppery arugula and walnuts for an earthy, less oily version of pesto.
This pesto, featuring peanuts, fresh parsley and garlic is great on panini sandwiches or noodles.
Lycopene-packed tomatoes take center stage in this dish, with cilantro, balsamic vinegar and onion enhancing their flavor.