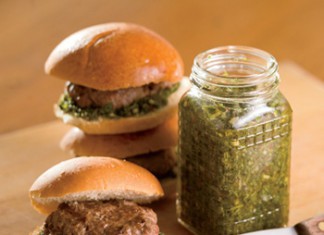 Try these South American-inspired sliders, featuring an herb-filled chimichurri sauce, at your next cookout.
Try this twist on a traditional pasta bake, featuring fresh zucchini and three different types of cheeses.
These Korean pork sliders feature soy sauce, ginger, Asian pear and Chinese cabbage.
This quick and easy appetizer features savory ham and fresh veggies like broccoli and green peppers.
This Asian-inspired pork dish is a great quick dinner for busy weeknights.
Get a taste of the islands with this Caribbean-inspired salad featuring pork roast and fresh mangoes.
This hearty chili recipe featuring chickpeas and lentils will warm you up on a cool night.
This quiche, featuring pork sausage and healthy spinach, can be served as a hearty breakfast or in small tart-sized portions for appetizers.