Onion Recipes and Articles About Onions
Put a twist on traditional Gazpacho by using fresh yellow tomatoes.
Make this classic Irish dish in your slow cooker for a ready-to-eat meal when you get home from work.
Traditional ratatouille gets a winter spin with seasonal veggies.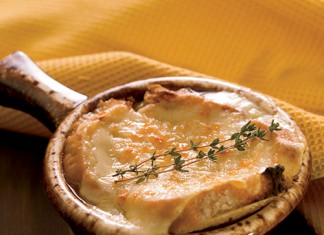 A warm comforting dish, this soup features four different types of onions including red, white, yellow and green.
Impress your friends and family with this homemade soup featuring sweet apples, onions and savory blue cheese croutons.
Absolutely all five nutrient-rich food groups (grains, vegetables, fruits, milk/cheese and meat/protein) are represented in this sweet-savory barbecue chicken pizza.
Try this twist on traditional potato salad that includes lemon, basil and bacon for your next picnic or potluck.
Scoop up a serving of tomato-pepper-bacon stuffed squash for a tasty summer treat.