Soft pumpkin cookies get a delicious upgrade with orange-cranberry icing.
These muffins are great for using up leftover cranberry sauce.
Put a twist on traditional Gazpacho by using fresh yellow tomatoes.
Fresh blueberries and a yummy mascarpone topping take homemade waffles to the next level.
Flavorful sage gives standard fruit salad an upgrade.
Tart rhubarb and fresh strawberries come together for a delicious combination in this classic fluffy cake.
Bright mango dressing perks up a fresh salad featuring honey-coated Brie cubes.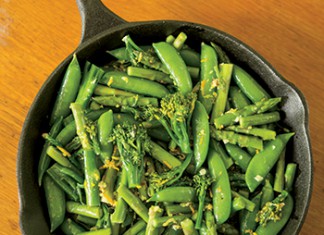 Fresh asparagus, broccolini and sugar snap peas bring the flavors of spring to this easy side dish.