Give you water a refreshing boost with flavors of blueberries and citrus.
What could be better than sweet strawberries, flaky puff pastry and cream? Celebrate strawberry season with this light and flaky Strawberry Puff Pastry Torte.
Three delicious layers come together to make one amazing pie.
Soft pumpkin cookies get a delicious upgrade with orange-cranberry icing.
Fresh blueberries and a yummy mascarpone topping take homemade waffles to the next level.
Fresh lavender flowers are an unexpected ingredient in this scone recipe.
Cornish hens may seem fancy, but this simple dish is a delicious and easy alternative to chicken or pork.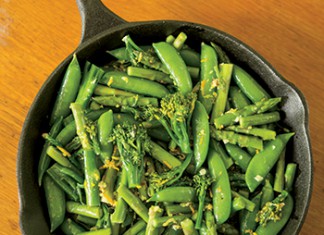 Fresh asparagus, broccolini and sugar snap peas bring the flavors of spring to this easy side dish.