Juicy watermelon combines with garden herbs, bell peppers and cucumbers to create this summer soup that requires no cooking.
Potato wedges coated with thyme, oregano and rosemary are roasted until golden and tender.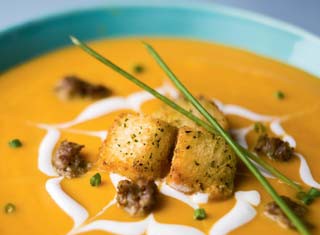 Warm up a cold day with this squash and sausage soup.
Select your favorite pasta to use in this beef and vegetable soup with just a hint of spiciness.
A simple savory side dish uses fresh garlic, shallots, basil and thyme to flavor tasty tomatoes.
Red and yellow peppers, diced cucumber, tender spinach and lemon juice gives a fresh touch to orzo pasta, kalamata olives and feta cheese.
This delightful nut is the perfect snack when you're on the go or having a party.
This simple tomato sauce recipe can be used for pizza or pasta.