Home
Tags
Parmesan cheese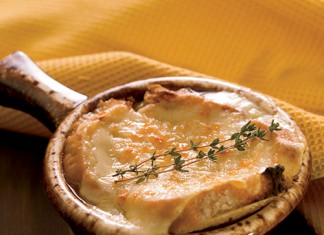 A warm comforting dish, this soup features four different types of onions including red, white, yellow and green.
This upscale side dish from Chef & the Farmer's Vivian Howard features tender scallions with fresh herbs and Parmesan croutons.
Creamy and delicious, this filling past bake features four different types of cheese.
Seasonal root vegetables and crispy ham are the perfect contrast to creamy Parmesan dressing in this fall salad.
Parmesan cheese and fresh thyme take popcorn to the next level.
Thin zucchini "noodles" step in for pasta in this hearty lasagna.
Quick, simple and effective, Mason jar salads are perfect for a picnic or packed lunch.
Tasty Parmesan breadcrumbs enhance hearty, healthy greens.