Home
Tags
Parmesan cheese
Parmesan Pepper Crisps make and easy and delicious snack.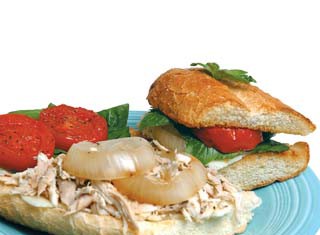 Treat yourself to an herb-flavored sandwich for lunch, a great use for leftover turkey.
Gather up your best garden veggies for this easy-to-make, healthy side dish.
Italian-style checca works best with fresh-from-the-garden tomatoes; it's especially popular on a steamy summer day – no cooking required.
Perfect for an easy, light meal, this quiche includes spinach and feta cheese.
Fennel, fresh herbs and shaved Parmesan cheese add punch to this salad of mesclun lettuce.
Invite the neighbors over for this bruschetta, topped with olives, tomatoes, feta and red onion.
Mix fresh tomatoes, sweet onion, cheese and hot Italian sausage for a savory pie that's anything but an ordinary dinner recipe.