Cold pasta salad is made better from fresh veggies and basil.
Fresh spring vegetables combine with cheesy tortellini in this chilled pasta salad.
Toss summer herbs and veggies with olives, artichokes, feta and a shallot vinaigrette for a fresh pasta salad.
A cold pasta salad, this dish is perfect for your next picnic.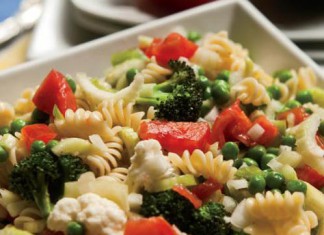 This sweet yet savory pasta salad calls for rotini noodles, fresh vegetables and a sweet cucumber vinaigrette.
Use produce from the farmers market – or your home garden – with this flavorful and fresh-tasting pasta dish.
Red and yellow peppers, diced cucumber, tender spinach and lemon juice gives a fresh touch to orzo pasta, kalamata olives and feta cheese.