Pears, Gorgonzola cheese, and walnuts make a dynamic trio, evidenced by this crowd-pleaser pizza.
Did you know that every U.S. pear is picked by hand? Learn more interesting facts about the sweet fall fruit.
Try a new twist on salad with healthy brown rice instead of lettuce in this filling fall dish that features in-season pears, walnuts and gorgonzola cheese.
The surprisingly simple treat, calling for store-bought puff pastry dough but homemade whipped cream, showcases the pear in full fashion.
The refreshing salad is simple and satisfying, but pine nut-crusted goat cheese and champagne vinaigrette adds a little kick to the dish.
Eating an entire apple or pear becomes a "piece of cheesecake" if you dunk slices in this decadent Pumpkin Cheesecake Dip.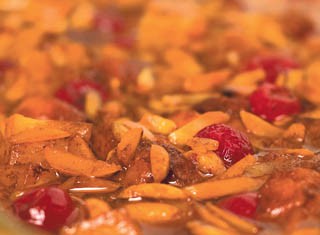 Combine sliced peaches, sliced pears, apricots, pineapple and more for a sweet, fruity dish.
Toasted maple ginger walnuts add a new taste to the classic salad of lettuce and balsamic dressing.