No need to head to the grocery's freezer section – make this summertime favorite right at home.
Containing just about everything but the kitchen sink, including carrots, apples, raisins, pecans and coconut, these hearty breakfast muffins are chock full of vitamins and antioxidants.
A delicious way to turn a vegetable into a decadent dessert, this sweet potato cake features crunchy pecans and a sweet cream cheese icing.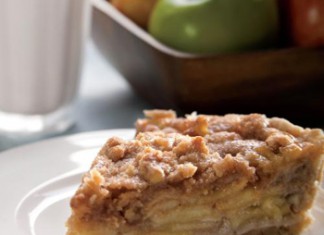 This classic American dessert bursts with apple flavor from two different varieties of the fruit, and a sweet, nutty crunch from the streusel topping.
Give grilled baby back ribs a sweet, nutty kick with this tasty cookout recipe.
This moist dessert bread uses fresh apples and crunchy nuts for texture.
Georgia is one of the nation's top producers of pecans, with 1,000 farmers growing nearly 100 million pounds of the nut each year.
This pumpkin bread recipe, named for the family friend who created it, can be given as a holiday gift, warmed for breakfast or enjoyed for dessert.