Try our twist on this Southern favorite – the ever-popular stuffed peppers – but instead of the traditional beef and rice, fill it full of lamb and couscous to add a little edge and a lot of flavor.
This recipe for a stir-fry can utilize myriad fresh spring and summer vegetables. Be flexible with what's available and in season at your market.
To make our gazpacho, simply throw together your farmers market favorites such as peppers, tomatoes, cucumbers and onions, and blend them into a chilled soup.
Eggs, cheese and fresh veggies serve as toppings for this tasty morning meal.
Red and yellow peppers, diced cucumber, tender spinach and lemon juice gives a fresh touch to orzo pasta, kalamata olives and feta cheese.
Bok choy and ramen noodles add Chinese flair to this salad.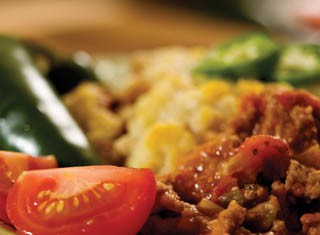 Add some Southwestern flair with this spicy dinner of beans, corn, ground beef and tomatoes.
Fresh bell peppers, zucchini, red onion and cherry tomatoes are grilled and then doused with thyme, garlic and balsamic vinegar for a tasty side dish.