Cozy up with a hearty and healthy bowl of Vivian Howard's collard green soup.
Have more basil growing in your garden than you know what to do with? Learn how to freeze fresh pesto to make your basil harvest go further!
Everyone is sure to love cheesy pesto shells.
Tried and true pesto is made with lots of basil and pine nuts with olive oil, Parmesan, and garlic, but for these recipes, basil is exchanged with another dark leafy green, and expensive pine nuts are substituted with other kinds of nuts.
Fresh pesto and gooey cheese pair with pork chops in this upscale panini.
A heartier summer pizza, this recipe features Italian sausage and fresh tomatoes.
Put those eggplants to use with our breadcrumb-crusted, pesto-laden take on the classic eggplant Parmesan.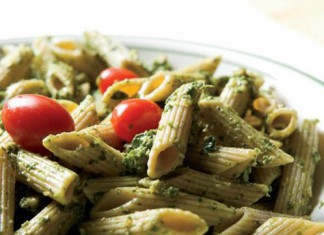 Combine in-season spinach leaves with peppery arugula and walnuts for an earthy, less oily version of pesto.