This homemade pie crust recipe uses butter, flour and vinegar to make an ideal flaky crust for any type of pie. You can also freeze the pie crust for later.
This creamy raspberry dessert gets a cool kick from lime juice and zest in a tart recipe perfect for summer picnics and cookouts.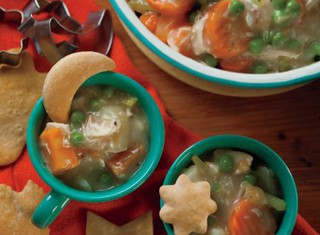 Pot pie soup, made with chicken or leftover turkey, is lower in calories, fat and sodium with far more vegetables than its traditional pot pie counterpart.
If you're craving a warm, savory meal, try out our turkey pot pie, which combines leftover turkey (or chicken) with frozen vegetables for a hearty one-dish meal.
If you're up for a change, try this unexpected new crust variation made with crumbs of that childhood favorite, zwieback toast.