Creamy peanut butter and sweet caramel come together in this tasty pie.
A twist on the classic icebox pie, this recipe uses fresh peaches, vanilla ice cream and gingersnaps before being topped with a decadent almond brittle.
Easy and delicious, this smooth pie uses fresh bananas and sweet vanilla pudding.
Sweet blueberries and raspberries combine in this fresh fruit pie.
Sweet cherries and peach preserves come together for a tasty treat.
Sweet and light, classic Coconut Cream Pie is a traditional spring dessert.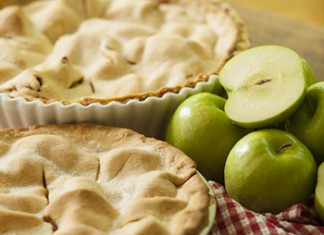 This classic apple pie features a yummy rum sauce to pour on top.
This homemade pie crust recipe uses butter, flour and vinegar to make an ideal flaky crust for any type of pie. You can also freeze the pie crust for later.