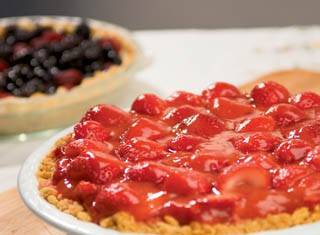 Our simple strawberry pie recipe is as pretty as it is delicious.
If you're up for a change, try this unexpected new crust variation made with crumbs of that childhood favorite, zwieback toast.
This tasty peach pie filling, flavored with ginger and nutmeg, works great with premade pie crusts.
This fresh mixed berry pie is easy to whip up and a gorgeous addition to even the most formal table.
This quick cherry pie filling turns store-bought pie crust into homemade summer goodness.
Enjoy cherry pie filling, pineapple and pecans in this sweet no-bake pie.