Make your next pizza night a little healthier with a Cauliflower Pizza Crust made with riced cauliflower instead of flour.
These pizza sticks with buffalo chicken, cheese and green onions are the perfect dish to serve at any get-together or sports party.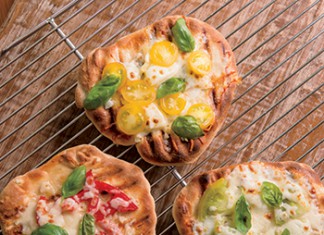 Colorful tomatoes and mozzarella cheese are highlighted by fresh basil in this perfect summer pizza recipe.
The perfect pizza for kids, tiny "trees" help them learn to eat their vegetables.
Absolutely all five nutrient-rich food groups (grains, vegetables, fruits, milk/cheese and meat/protein) are represented in this sweet-savory barbecue chicken pizza.
A heartier summer pizza, this recipe features Italian sausage and fresh tomatoes.
Try a new twist on a classic BLT – in pizza form!
A healthy pizza with fresh asparagus and homemade dough makes for a great appetizer or meal.