Savory nuts mixed with maple syrup, rosemary and cayenne make a great snack.
Hearty root vegetables get a burst of flavor from fresh rosemary in this simple side dish.
The pungent flavors of goat cheese and rosemary combine in this low-sugar muffin recipe that's perfect for breakfast or a snack.
Take advantage of fresh rosemary for these savory citrus shortbread cookies.
Dried herbs and spices are great ways to amp up the flavor of plain meat cuts such as pork loin.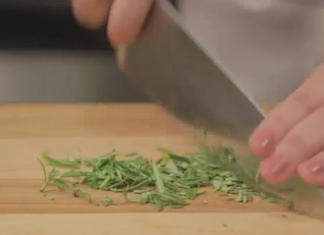 Learn how to chop fresh rosemary and add flavor to your favorite dishes.
Cool down with this refreshing frozen dessert featuring the refreshing flavors of strawberry, lemon and fresh herbs.
Savory herbs combine with the sweet-sour flavors of lemon, lime and orange for a delicious twist on your average cookie.