A stuffing of spinach, garlic and Parmesan, plus a simple sage butter amp up the flavor of plain pork.
Simple chicken thighs receive a flavor boost from a seasonal strawberry sauce.
A healthy pizza with fresh asparagus and homemade dough makes for a great appetizer or meal.
With sweet and savory elements, this hearty stuffing complements a holiday turkey perfectly.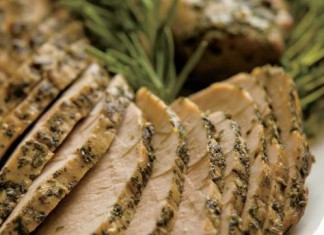 A four-herb and garlic marinade brings out the flavors of this lean cut of pork.
A delicious easy chicken recipe, flavored with lemon and sage.
Enjoy fall weather with a squash-rich, creamy soup that's perfect for preparing the day ahead.
A flavorful side dish of squash, stuffed with rice, pecans and Gouda cheese.