Learn how to layer the ingredients in your salads to keep them fresh longer and enjoy healthy lunches all week long.
Browse our 20 best spring recipes – soups, salads, side dishes and even breakfast – that use spinach, asparagus, strawberries and other fresh spring produce.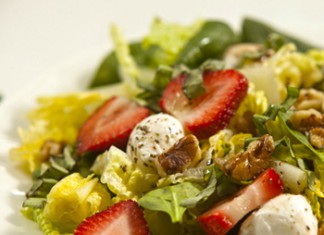 Fresh, in-season strawberries and spinach accompany crunchy walnuts and mozzarella cheese in this refreshing salad.
Get the taste carrot cake in salad form with sweet pineapple, raisins, dates and pecans.
Sweet grapes, crunchy almonds and curry powder give this chicken salad recipe an extra dose of flavor.
Go light, healthy and fresh with this simple salad featuring blueberries and cucumbers.
Try a new twist on salad with healthy brown rice instead of lettuce in this filling fall dish that features in-season pears, walnuts and gorgonzola cheese.
Here's a primer on some new greens and old favorites – arugula, spinach and kale – including nutritional benefits and recipes.