Impress your friends and family with this homemade soup featuring sweet apples, onions and savory blue cheese croutons.
Experience all the flavors of autumn in this smooth and filling vegetable soup.
A fresh-tasting soup featuring split peas, zucchini and basil.
This healthier version of the classic creamy soup features fresh asparagus and a dash of nutmeg for flavor.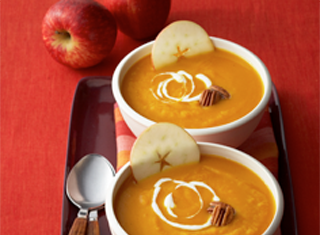 Serve up some fall flavors in this colorful soup featuring butternut squash and apples.
Fall flavors come forth in this silky soup made with Bosc pears and fresh parsnips.
Put a Mediterranean spin on dinner with quick Greek lemon soup, which features rice, eggs and lemon juice.