Topped with thick-cut bacon, cheese and sour cream, these patriotic nachos are the perfect picnic dish.
Fresh strawberries, chocolate and cream cheese come together for a delicious dessert.
Tasty chicken tacos are made even better with a spicy horseradish-lime sauce.
A zesty horseradish cream sauce takes tender flank steak to the next level.
A classic crowd-pleaser, Garlic Mashed Potatoes are smooth, creamy and delicious.
Cool, refreshing dill sauce makes a flavorful topping for fresh salmon.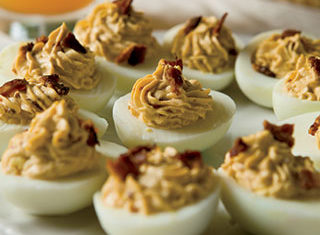 Chipotle chile peppers and paprika add a spicy kick to classic deviled eggs.
Get the taste carrot cake in salad form with sweet pineapple, raisins, dates and pecans.