Greek kebabs made with sirloin steak and garden-fresh veggies make a tasty addition to any backyard barbecue.
The combination of fresh herbs, serrano pepper, lemon and bacon fat sends this elegant steak dish over the top.
One sheet pan is all it takes for this delicious fajita bake.
Pureed cauliflower makes a perfect bed for delicious grilled steak.
You can still enjoy your favorite juicy steak without breaking the bank. Check out these tips for eating steak on a hamburger budget.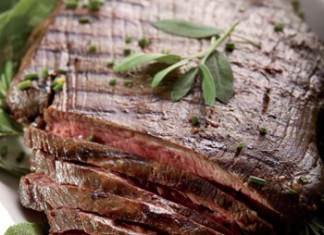 Inject some Asian flavor into grilled flank steak with a marinade featuring soy sauce, honey, vinegar and ginger.
To save money on high-priced steaks this summer, try lesser-know, less-expensive cuts that are equally delicious on the grill.
Get the beefy, peppery, cheesy taste of Philly cheesesteak in a different form: pizza! This dish is quick, easy and perfect for kids.