Hearty potatoes and corn meld with flaky fish in this filling, tasty chowder.
Fresh corn is paired with tomatoes, red onion and fresh basil for a healthy summer side dish or potluck recipe.
This blueberry corn salad's sweet and savory honey-lime dressing gives a burst of fresh flavors to your taste buds, and it goes well with just about any grilled meat.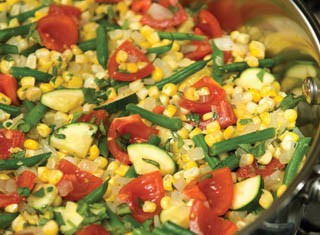 This summer dish's rich colors and farm-fresh ingredients of corn, zucchini, tomatoes and green beans serve up nicely with any entree.
Corn on the cob is grilled right in the husk for this tasty summer side.
Try this twist on traditional salsa using sweet corn, flavorful black beans and a tangy lime and cilantro dressing.
This sweet, creamy corn and potato chowder tastes fresh and hearty at the same time. It's a great vegetarian dish to serve as a side or main course.
Fresh from the garden, the tastes of cabbage, carrots, celery, corn, tomatoes and potatoes combine for a chunky vegetable soup to warm your soul.