Tomatoes and sweet corn serve as staple crops in Florida's produce sector.
Grilled sweet corn is perfect in the summer. Use it in this tasty BBQ Corn Salad, featuring green onions, grape tomatoes and parsley.
Spinach, sweet corn and white cheddar cheese make for a classy, delicious breakfast bake.
Hearty potatoes and corn meld with flaky fish in this filling, tasty chowder.
Fresh corn is paired with tomatoes, red onion and fresh basil for a healthy summer side dish or potluck recipe.
This blueberry corn salad's sweet and savory honey-lime dressing gives a burst of fresh flavors to your taste buds, and it goes well with just about any grilled meat.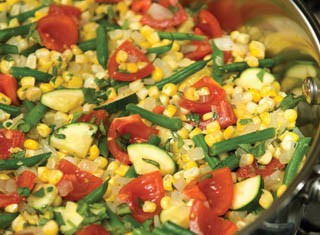 This summer dish's rich colors and farm-fresh ingredients of corn, zucchini, tomatoes and green beans serve up nicely with any entree.
Corn on the cob is grilled right in the husk for this tasty summer side.