Tomato Recipes and Articles About Tomatoes
Cozy up with a hearty and healthy bowl of Vivian Howard's collard green soup.
A hearty chowder is cozy for cool nights.
Enjoy the quintessential soup combo – creamy tomato soup and grilled cheese – all in the same bowl. Skip buying canned soup and simmer your own in less than 20 minutes.
Portable taco dip is perfect for picnics.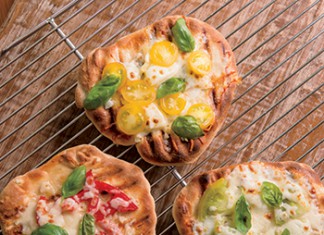 Colorful tomatoes and mozzarella cheese are highlighted by fresh basil in this perfect summer pizza recipe.
Nothing says summer like a bright red juicy tomato. Several states battle it out over this juicy red fruit, each claiming they grow the tastiest tomatoes.
No more sticky fingers. Serve your BBQ chicken Cobb salad-style by topping chopped lettuce with beautiful layered rows of cheese, beans, corn and tomatoes.
Toss fresh veggies in a food processor to whip up a batch of chilled gazpacho. Serve with Italian bread toasted extra crisp and a smear of goat cheese.