Tomato Recipes and Articles About Tomatoes
Made with grilled vegetables, cilantro and freshly squeezed lime juice, this simple salsa is the perfect summer appetizer.
Juicy tomatoes, garden-fresh basil and creamy goat cheese combine in this simple tartine. Served on multigrain bread, this healthy dish makes the perfect summer appetizer or snack.
This one-pan recipe by chef Vivian Howard is a crowd-pleasing favorite on the breakfast or brunch table.
Cozy up with a hearty and healthy bowl of Vivian Howard's collard green soup.
A hearty chowder is cozy for cool nights.
Enjoy the quintessential soup combo – creamy tomato soup and grilled cheese – all in the same bowl. Skip buying canned soup and simmer your own in less than 20 minutes.
Portable taco dip is perfect for picnics.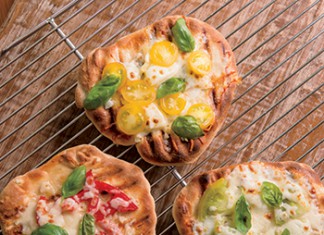 Colorful tomatoes and mozzarella cheese are highlighted by fresh basil in this perfect summer pizza recipe.