Tomato Recipes and Articles About Tomatoes
Garlic tomatoes and peas combine for a wonderful fresh side dish.
Classic creamy tomato soup gets its savory flavor from basil, garlic and onions.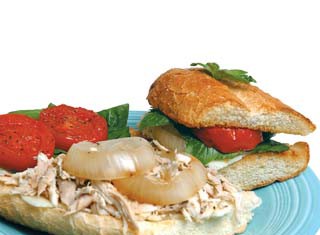 Treat yourself to an herb-flavored sandwich for lunch, a great use for leftover turkey.
Tried and tasted for more than 40 years, this recipe calls for V8 Juice and ketchup.
This summery, crowd-pleasing pasta dish utilizes fresh tomatoes and basil along with shrimp.
A Southern favorite, cornmeal-crusted fried green tomatoes are perfect for a light lunch or as a side to a home-cooked dinner.
Fresh bell peppers, zucchini, red onion and cherry tomatoes are grilled and then doused with thyme, garlic and balsamic vinegar for a tasty side dish.
Chicken, spinach, goat cheese and tomatoes make this an easy yet elegant dinner dish.