Fresh green beans pair with crunchy walnuts and tangy red onion in this easy salad.
This fresh salad is bursting with fall flavors from apples, pears, goat cheese and walnuts.
Crunchy walnuts, creamy goat cheese and juicy pears combine to give this salad great flavor.
Crack open these facts about walnuts.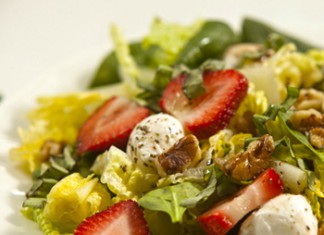 Fresh, in-season strawberries and spinach accompany crunchy walnuts and mozzarella cheese in this refreshing salad.
Change the reputation of fruitcake with these delicious cookie-like dessert bars.
Candy making can be tricky, but this sweet brown sugar fudge is worth the effort.
The fresh fruit and vegetable combination is paired with a variety of fresh herbs, making it easy to stay healthy without sacrificing flavor.