Turn your cup of joe into a tasty treat with vanilla gelato and chocolate sauce.
Sweet and decadent, these mini cakes are the perfect treat.
Classic pots de creme get a tasty update with creamy peanut butter.
Creamy peanut butter and sweet caramel come together in this tasty pie.
Sweet and light, classic Coconut Cream Pie is a traditional spring dessert.
Instant coffee adds a flavorful boost to sweet chocolate custard.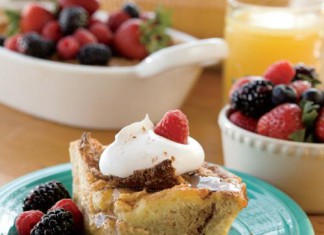 Prepare the batter for this simple french toast recipe the night before, and just bake the casserole in the morning before topping with berries, syrup and whipped cream.
Light and sweet biscuits are topped with juicy strawberries and fluffy whipped cream.