Collard Green Salad Rolls are easy to hold and delicious to eat. Packed with garden-fresh veggies and wrapped in collard greens instead of a flour tortilla, they make an excellent option for a healthy lunch or snack.
Fresh vegetables and toasted pecans bring long-grain rice up a notch.
One sheet pan is all it takes for this delicious fajita bake.
Red potatoes, yellow pepper and green onions are featured in this chicken salad, which can be served as a sandwich or by itself.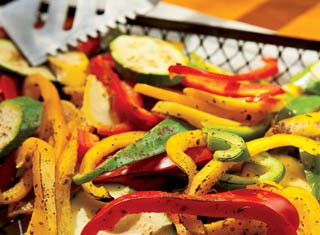 Fire up the grill for fresh vegetables. This recipe is so versatile you can use any combination of veggies you find available.