This chilled soup features quintessential summer flavors.
Get creative with the kids on these easy, healthy and tasty zucchini "boats."
Cold pasta salad is made better from fresh veggies and basil.
Thin zucchini "noodles" step in for pasta in this hearty lasagna.
Fresh summer squash blends with grape tomatoes and couscous for a hearty summer side dish.
Fresh zucchini and carrot "noodles" act as the base of this vegetable salad.
Chocolate and zucchini are two unconventional ingredients that team up for a family favorite bread recipe.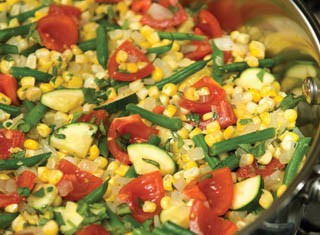 This summer dish's rich colors and farm-fresh ingredients of corn, zucchini, tomatoes and green beans serve up nicely with any entree.