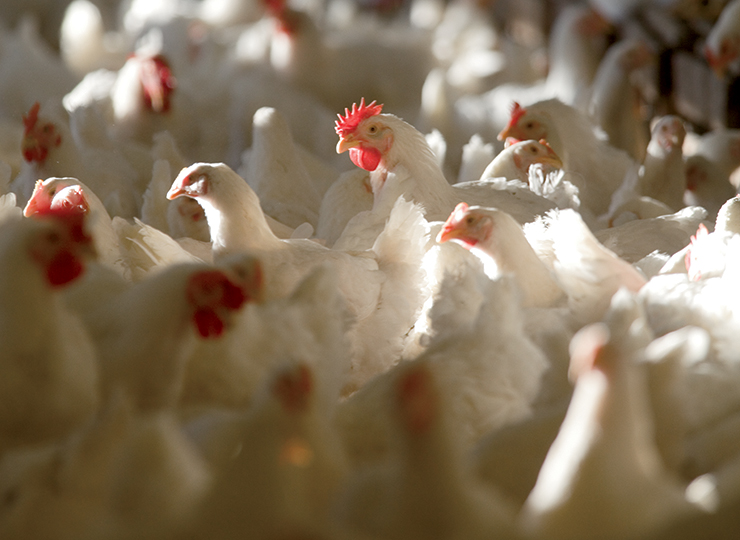 Nearly every package of chicicken sold in grocery stores across the country has a lineage that leads back to a competitively developed breeding line from one of four primary breeder companies – all with a Tennessee presence.
"Tennessee is the only state that has all four primary breeders," says Mark Harmon, director of production for Hubbard LLC, one of three major international primary breeders with facilities in the state. The others are Aviagen, a global market leader in poultry genetics, and Cobb-Vantress, the world's leading supplier of broiler breeding stock and technical expertise for the broiler meat industry. Heritage Breeders, a subsidiary of Perdue, is also a substantial primary breeder in Tennessee, supplying most of the genetics for Perdue, the third-largest broiler company in the United States. These four broiler primary breeders supply the breeder stock for 98 percent of the chicken grown nationally and 80 percent of the chicken grown globally.
Primary breeders are half of the poultry industry, with integrators – the companies that grow, process and market the birds for consumption – being the other half. Integrators in Tennessee include industry giants Tyson Foods, Pilgrim's Pride, Koch Foods and Equity Group.
Whether the chicken or the egg comes first, it all starts with some serious science. "The chicken sold in grocery stores and restaurants comes from a proven genetic line," Harmon says. "Our goal is to produce a genetically superior bird that will grow quickly, be healthy and produce a great product. People wonder how we grow birds in seven weeks. It's because of superior genetics, housing, management and nutrition. These birds perform to expectations with genetics being the foundation; no hormones or other growth promotants are used."
Step One: Breeding Stock
The chicken is the first agricultural animal to have its genome sequenced, placing poultry well ahead of other agricultural industries in terms of the genetics research and development. These primary breeder companies maintain flocks that consist of pedigree or pure-line birds, great-grandparent, grandparent and parent birds. Eggs from the parent birds are hatched to become the broilers grown for consumption.
"Different commercial processors are looking for different birds," Harmon says. "The Tyson Foods complex in Shelbyville sells to the retail market for example, while the plant in Obion County supplies to the fast food market. Each one requires a different size broiler to meet the demand. The primary breeders have geneticists on staff, and the birds are selectively bred to meet specific needs."
Cobb-Vantress invested $22 million in its Dry Creek research complex built in Deer Lodge. The facility opened in 2012 and is expected to create 115 new jobs in its first year of operation. The complex features 34 poultry houses and a hatchery. It is the second major investment made by the company in the state. Cobb opened a $14 million parent stock hatchery in Lafayette in 2010, providing new opportunities for 21 contract farmers supplying hatching eggs from their breeder flocks and creating approximately 60 new jobs.
Aviagen opened its pedigree operations in Tennessee in 1991 and the Aviagen hatchery in Tennessee opened in 1992. Today, Aviagen employs approximately 235 people in its Tennessee operations. At its Crossville location, Aviagen continuously invests in research focused on delivering balanced progress in both broiler and breeder traits.
"Through the application and integration of novel techniques and new technologies, continuous progress in breeder and broiler chicken performance is delivered simultaneously in commercial traits such as broiler live weight and egg production, as well as welfare-related traits such as robustness, cardiovascular fitness and skeletal strength," says Ben Thompson, Aviagen president. "The focus for Aviagen is on maintaining balanced progress in each product line."
Hubbard's Pikeville complex includes a grandparent level hatchery with the capacity to turn out 12 million breeders a year. Hubbard holds better than 50 percent of the total market sales for all males. Cobb-Vantress is widely recognized for having the superior females. A common cross in production by Tennessee's growers is Hubbard's male line M99 crossed with the Cobb 500 female to produce birds with enhanced feed conversion, daily weight gains and livability.
Step Two: Integrators
A typical broiler production complex operated by Tyson Foods, Koch Foods, Pilgrim's Pride or the Equity Group will maintain its own parent birds – laying hens from the lines developed by the primary breeders. Those hens produce the eggs that hatch and are delivered to the individual farms to be grown out and then processed for consumption. Family farmers in 60 Tennessee counties grow and sell broilers commercially.
"For a farmer to build three or four houses with a company like us, that's going to be an investment on their part, but creates an income that is extremely steady," says Dan Nuckolls of Koch Foods, who is also president of the Tennessee Poultry Association.
Farmers often spend several hundred thousand dollars per poultry house. The money pays for climate control, ventilation, feed automation and all of the high-tech infrastructure that ensures a quality product. The future looks bright.
In 2012 the U.S. Poultry & Egg Association determined the overall economic impact of the poultry industry in Tennessee to be worth more than $4.8 billion, accounting for over 27,000 direct and indirect jobs.
"The growth has been pretty intense these past few years," Nuckolls says. "Tyson has a plant out in west Tennessee. The Shelbyville Tyson plant has expanded. Koch Foods has expanded in Morristown, and the Chattanooga capacity has gone from processing 400,000 to 1.9 million birds a week."
The demand for poultry worldwide is at an all-time high, and continues to increase. "The U.S. poultry industry produces a low-cost protein and the world needs that," Nuckolls says. "We produce and can ship cheaper than most countries can produce at home. We're one of two or three major players in the export market, along with Brazil and France."