By 2050, the world's population is expected to increase to 9 billion, leading experts to estimate that 100 percent more food will need to be produced in order to nourish that population.
That scenario, daunting though it may seem, presents agriculturally strong states such as Tennessee with a unique opportunity to vastly increase food exports.
"About 25 percent of our total agricultural production is exported," says Julius Johnson, Commissioner of the Tennessee Department of Agriculture. "For our agricultural community to grow, we must work hard to grow that number."
Demand Grows for Row Crops
In this light, soybeans, already a firmly established crop in Tennessee, have the potential to be a game changer. And the reason is simple: As developing nations continue to improve their standards of living, protein in the form of soybeans becomes a critical part of how those countries grow animal protein for food consumption.
"If we can continue to work on developing soybean varieties that are well-tuned to the climate in Tennessee, then I think we will be able to compete pretty well with other (soybean-producing) states in terms of yields," says Dr. Daryll Ray, director of the Agricultural Policy Analysis Center at the University of Tennessee.
Although on a smaller scale, Dr. Ray says that cotton is another area of Tennessee agriculture that is ripe with opportunity for growth in exports.
"America's cotton exports have experienced significant growth recently," he says. "So there is a great opportunity for Tennessee farmers in the worldwide cotton arena as well."
Beef Exports Boom
Beef is another commodity for which Tennessee would benefit from a worldwide increase in demand, which will occur thanks to rising per capita incomes in many of the world's expanding countries.
"We are part of the beef production chain," Commissioner Johnson says. "So any increase in demand at the export level will filter down to the fairly sizable calf market in Tennessee."
Along with the worldwide increase in demand for beef, ongoing research on everything from fertilization to fencing has tremendous potential for increasing the amount of beef produced in cow-calf operations. Higher beef yields make the exporting of beef to countries with growing middle classes even more cost efficient for Tennessee's smaller farms, which make up the majority of the land that is farmed in the state. Furthermore, there is an opportunity to capitalize domestically on the growing popularity in grass-fed beef, a highly specialized commodity ideally produced on smaller farms.
"Protecting the quality of our product is critical," Commissioner Johnson says, "because Tennessee is recognized as a producer of top-quality products. And that's a reputation we owe to our small-scale farmers."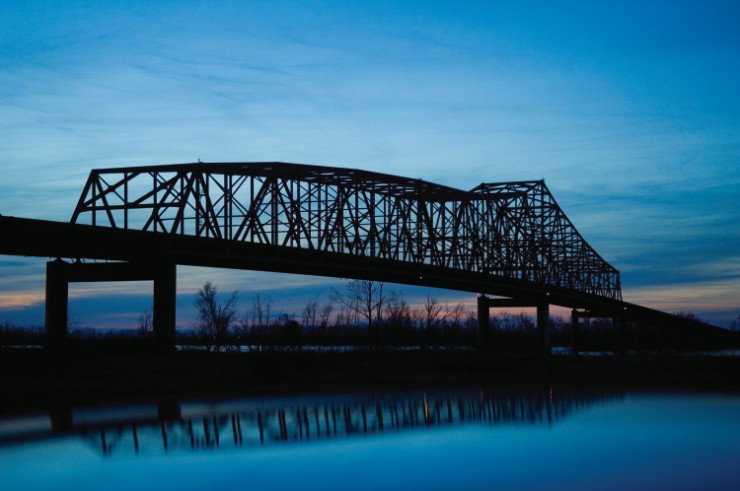 Exporting Made Easy
In addition to existing agricultural commodities, Tennessee also boasts certain geographical advantages that can be a boon for the export market.
"The Mississippi River allows us to reach the world," Dr. Ray says. "China is a tremendous importer of soybeans, and the position of both the Mississippi and the Tennessee rivers allows us to compete with countries like Brazil in that capacity."
Water, however, is not Tennessee's only geographical advantage.
"If you look at the interstate system through Tennessee, we are sort of at the hub of the country's transportation system," Commissioner Johnson says. "We can connect to key parts of the population, and that means we can get our product to market better, both domestically and abroad."