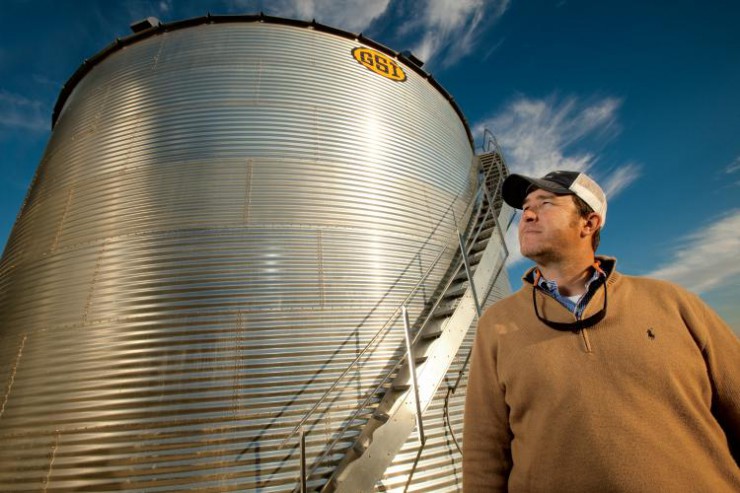 In the 1960s, Tennessee had the highest rates of soil erosion in the country, with farmers losing an average of almost 50 tons of soil per acre per year. But a new technique and a commitment by the state's farmers to use it changed all that.
"We solved that problem by promoting and employing no-till technology throughout the state," says Blake Brown, director of the University of Tennessee's AgResearch & Education Center at Milan. "Today, more than 70 percent of Tennessee's acres are no-tilled," he says. The no-tilling practice increases the water and nutrients in the soil by growing crops without disturbing, or tilling, the soil. The results include better production efficiency, cleaner water and air, and drastic improvements in soil conditions.
Willis Jepson, a Robertson County farmer whose operation includes corn, wheat, soybeans and tobacco, knows firsthand the benefits of no-till practices. "We embraced the no-till system in the 1980s and now are 100 percent no-till. Beyond the obvious soil conservation advantages, it also allows us to do more with less horsepower, which improves efficiency."
Software to Smartphones
That's just one technological advance that Jepson, a seventh-generation farmer, has adopted. "I've been working these fields all my life and have seen technology continue to provide our operation with opportunities to manage our inputs, to be good stewards of the environment, and to monitor and improve our yields."
He points to advancements in auto steer equipment, yield monitors and accompanying software, and even smartphones and iPads as being responsible for creating efficiencies that improve the farmer's bottom line. Of course, costs are associated with adopting the technology, but there can be big payoffs.
"Equipment advances allow us to better manage all the zones of our operation independently," Jepson says. "We can create a specific prescription and target yield for each zone, which means we're not buying more fertilizer than we need. We also gain time and precision each time we use auto steer in our operation."
Jepson also credits his desktop computer and mobile technology for making it simpler to run his family farm. "My iPhone and iPad make it easy to check the weather and the markets all day long. Accessibility to that information as well as the data on our own operation and farming research and trends help us make sound decisions based on the most current information. I probably sit in front of a computer as much as I'm behind the wheel of a truck."
Biotechnology and Beyond
According to Brown, agriculture biotechnology is also responsible for providing efficiencies for today's farmer. Products such as RoundUp ReadyR for soybeans and insect control biotechnology for corn and cotton lower the number of passes farmers have to make in a field, which saves time and fuel. Of course, they have to continuously monitor for resistance. And that's why research is so important.
"Farmers really believe in research," says Parks Wells, executive director of the Tennessee Soybean Promotion Council. "It has a tremendous return for them," he says, because the advances that result from the research drive cost, time, and production efficiencies and even open up new markets.
Wells points to the success of biodiesel as one such technological advance. Not only can it be used to power agriculture, but it's also made from soybeans, so it pays double the dividends. In addition, Wells says, it "helps provide protein for the world" through the creation of soybean meal in the biodiesel production process.
While there is no shortage of challenges for today's farmers, there is no shortage of ingenuity or tenacity in the Tennessee agriculture community either, Brown says. "Our goal is to help farmers be successful. Technology is one important way to ensure that success."