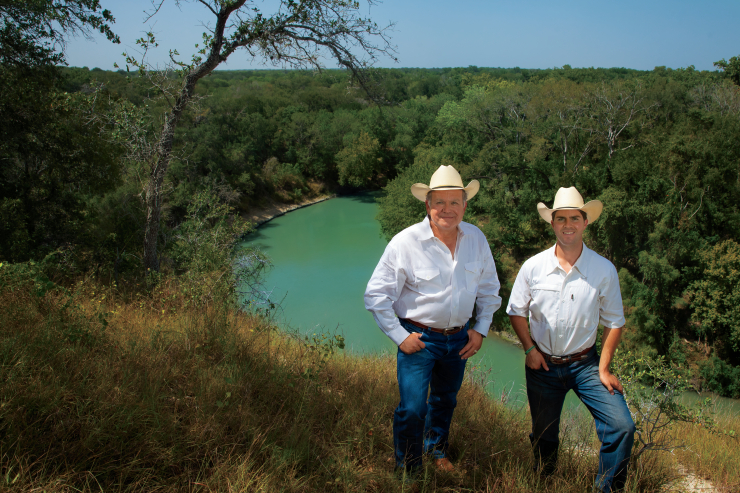 Texas farmers have strong values — family, land, tradition, conservation, responsibility — and so does the Texas Department of Agriculture (TDA). That's why TDA created the Family Land Heritage Program, which recognizes farms and ranches that have been in continuous agricultural operation by the same family for more than 100 years.
Since the Family Land Heritage Program began in 1974, it has recognized more than 4,800 farms and ranches in 239 counties across the state.
Through farming or raising livestock on the same soil as previous generations, these families have a unique sense of pride in the land and feel a responsibility for using that land to produce food to feed the world's growing population.
"The Family Land Heritage program recognizes the hard work of Texas farmers and ranchers who always strive to get the most out of their land, but also to leave it in the best possible shape for the next generation," says Texas rancher Jim Selman.
And Selman, 82, knows about land being passed down through the generations.
Selman Ranch
In 1861, Selman's great-great-grandfather purchased 300 acres of land. Since then, every generation has added to it, and now, Selman runs a cow-calf operation on 2,029 acres in Gonzales County and leases out 1,000 more acres.
Selman grew up on the ranch, but had to work off the farm as an agricultural extension agent from the 1950s until 1986 because of severe drought conditions – something all Texas farmers can understand.
"All this time I was still ranching, but I had to do it at a distance in order to keep my property," Selman says. "My goal was always to get back to the ranch full time."
Throughout his life, Selman has always believed he had an obligation to raise food for the world's growing population, and through estate planning, he is ensuring that his land will be kept together and hopefully used for that purpose long after he can't raise cattle anymore.
"People don't realize how important it is to keep land in production," he says. "We've been feeding the world all these years, and now we have less and less acreage available. Land is priceless; we're not making any more of it."
Ray Wilson Ranch
Ray and Faye Wilson feel the same way.
"Land is the only thing we've got on earth that remains unchanged," says 87-year-old Ray Wilson, a retired university chemistry professor and Family Land Heritage Program honoree. "If the person who owns the land doesn't raise food, people are going to starve."
Wilson, who served in the United States Navy during World War II, went on to become the first African-American male to earn a Ph.D. from the University of Texas in 1953. No matter what he pursued in life – whether it was joining the Navy, earning his Ph.D., getting a law degree, teaching college students or selling real estate – he never abandoned his land or farming.
He's raised cattle and hogs and grown peanuts, corn and hay. He says his newest farming venture will be certified organic fruit and vegetable production.
The Wilson family originally owned 114 acres, which was given to Ray's great-aunt, Mattie Wade, after she was liberated from slavery. Ray bought more land throughout his life, and he now owns more than 400 acres near Giddings and Fort Bend. Ray started working on the farm early in his childhood.
"Daddy started me farming at 5 years old," he says. "At age 7, I was driving a tractor and everything. Farming is a character you carry along with you. It's what my mother and dad did, and it's what I do."
Although Ray had job offers at universities across the country when he earned his Ph.D., he and his wife Faye decided to stay in Texas.
"Farming made my husband who he is," says Faye, who didn't grow up on a farm, but has embraced the lifestyle wholeheartedly. "I believe in the farming, but it's a hard life. It's in his bones. He loves to do hard work. I've learned a lot, and as a matter of fact, I enjoy it, too."