Contrary to popular belief, peanuts are not a member of the nut family and don't grow on trees, like pecans or other nuts. They are actually a legume, related to beans and peas. Peanuts are unlike most other plants during their growing season, as they flower above the ground, but the fruit actually grows below the ground. Peanuts' growth cycle takes four to five months from planting to harvest, depending on the type of peanut you're growing. Here are the steps on how to grow peanuts.
See more: 10 Deliciously Addictive Craft Nut Butters
Plant the seeds
Peanuts need full sun, so pick out a spot to plant that will have sunlight throughout the day. Try to plant after the last frost in the spring when the ground temperature is around 65 degrees. Plant about 2 inches deep and about 5 inches apart. Make sure your rows are around 3 feet apart if planting multiple. About 10 days after planting, the seedlings will grow out of the soil into a leafy plant which will produce a yellow-colored flower about 40 days after planting. When the flowers pollinate, the petals fall off as the peanut begins to form.
See more: Peanuts Take Root in South Carolina
Pegging
The budding peanut ovary is called a peg. The peg forms a stem, which grows away from the plant and extends to the soil, then buries itself in the soil to begin forming a peanut. The plant continues to grow and flower as the pegs create more peanut pods.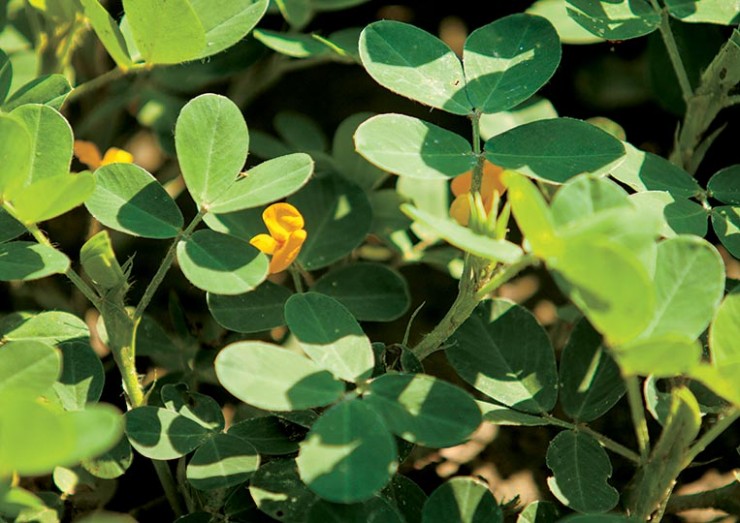 Watering
It's very important to keep your peanut plants watered properly. They need around 2 inches of water per week from planting through development. Make sure you're watering, even when it rains, because rainfall doesn't always add up to an adequate amount.
See more: Peanuts Aplenty in Mississippi

Harvest
When the plants have matured, around four to five months after planting, the peanuts are ready to harvest. You can tell the plants are ready when the leaves start to turn a yellowish color. Make sure the soil isn't too dry or too wet before you start harvesting. Pull or dig the plants when the soil is moist. Shake off the excess dirt and lay the plants out to dry and cure. Once dry, remove the pods and store in an air-tight container (unshelled) or crack a few open and enjoy.
Not only is snacking on peanuts a great way to add some quick protein to your diet but with the right conditions, you can grow your very own crop of peanuts in your backyard! Peanuts require 4 1/2 months of warm weather to grow, and consistent weeding is key to ensure the health of your plants. Plant your peanuts in light, sandy soils, with a pH of 5.8-6.2. Don't have that soil at home? No problem! Growing peanuts in containers is another option that allows you to more easily control your plant's exact soil needs. To learn more about growing peanuts, check out this graphic and article from Insteading.com!
Still feeling nutty? Try any of our tasty recipes featuring peanuts:
Goo Goo Cluster Pie
Peanut Butter Chocolate Cake Balls
Peanut Parsley Pesto
Crunchy Cabbage Peanut Slaw
Sources: National Peanut Board, Insteading.com