We've covered how corn mazes are designed, but we haven't really tackled the topic of the a-maize-ing (sorry) themes that these creative-minded designers think up.
Corn maze themes are often agricultural (farmers, pumpkins), educational (often relating to state history) or seasonal (Frankenstein, scarecrows), but for some reason I'm drawn to the labyrinths that celebrate pop culture. With football kickoff coinciding with corn maze season, that sport is largely represented, from college rivalries to NFL stars such as Colin Kaepernick and Andrew Luck, along with at least three Green Bay Packers-themed corn mazes (all in Wisconsin, of course). The most seemingly random one I came across is a Michigan maze featuring Tim Allen of Home Improvement fame, but sadly, I couldn't find an aerial photo of that one.
Still, here are my top five favorite pop culture corn maze designs from around the country that you can visit this fall:
5. Fifty Years of the Beatles, Richards Adventure Farm in McHenry County, Illinois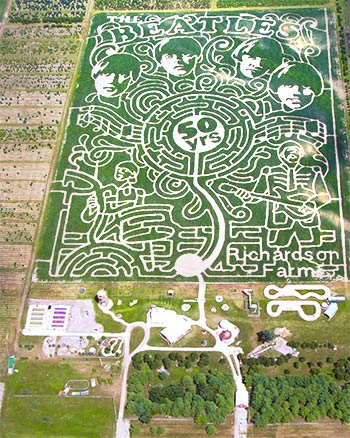 4. Kraken Sea Monster, Treinin Farm in Lodi, Wisconsin
3. "So God Made a Farmer" by Paul Harvey, Pope Farms in Wiggins, Colorado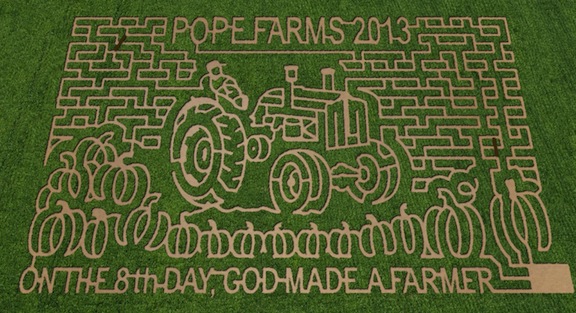 2. Voo Doo Doughnuts, Sauvie Island Haunted Corn Maze at Bella Organic & Portland Pumpkin Farm in Portland, Oregon
And I just can't ignore this last one, so the best pop culture corn maze design of 2013 is…
1. Duck Dynasty, Corn Dawgs in Loganville, Georgia
What corn maze designs are your favorites, and which funny/surprising/amazing themes did we miss? Let us know in the comments!