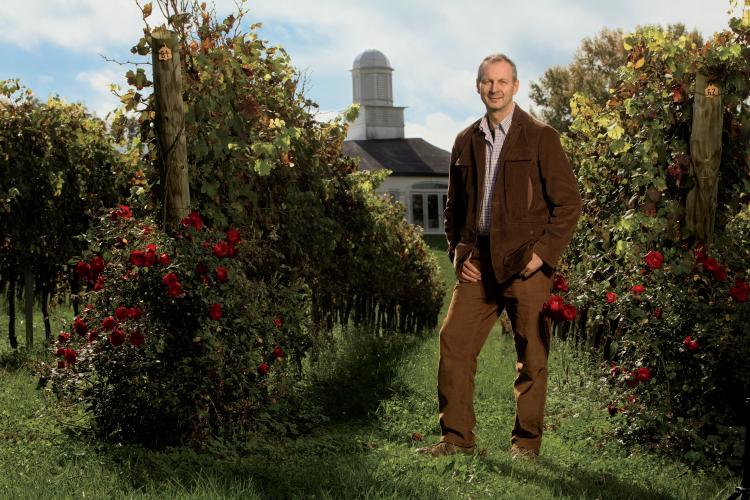 More than 400 years after English settlers first tried – and for the most part failed – to cultivate grapes in Virginia, the wine industry now ranks among the state's fastest-growing economic sectors, capturing the attention of industry leaders and tourists alike.
The last three years have been particularly defining for the state's vineyards and winemakers, says Virginia Secretary of Agriculture and Forestry Todd Haymore.
Wine Enthusiast magazine named Virginia one of the 10 best wine travel destinations in the world for 2012 – citing the state's picturesque landscapes, rich history and affable winemakers. The state held an inaugural Wine Summit that same year.
On the Rise
About 1.6 million people visited Virginia's wineries in 2010, up from just more than 1 million in 2009, according to Haymore.
Virginia now boasts more than 200 wineries and is the fifth-largest wine grape producer in the nation. The wine industry contributes almost $750 million annually to the state's economy, up about 106 percent from 2005, according to an economic impact study commissioned by the Virginia Wine Board.
"We are having one of those significant climbs that has not only put us on the national scene, but the international scene as well," Haymore says. "It all starts with the outstanding product the grape growers and winemakers are making at the wineries."
The Right Climate
Virginia's landscape and climate is "generally conducive to growing high-quality fruit," says Tony Wolf, a professor and viticulture extension specialist at Virginia Tech.
In 2010, vinifera varieties made up about 76 percent of Virginia's grape acreage, with Chardonnay, Merlot, Cabernet Franc and Cabernet Sauvignon among the most abundant. Hybrids like Chambourcin and Vidal Blanc made up about 16 percent of acreage, followed by American varieties such as Concord and Niagara, which accounted for about 7 percent of the acreage, according to state data.
The grape growing season starts in late March or early April and runs through late August to mid-October, Wolf says.
Most of Virginia's soils have adequate water-holding capacity and nutrient content to support grape growth. But soil type is "relatively unimportant" compared with climate, Wolf says.
Luca Paschina, winemaker and general manager at Barboursville Vineyards in Charlottesville, agrees.
"Grapes are not very demanding when it comes to soil," Paschina says. "We have a long growing season, and most grapes do well in regions that have enough sunshine and warm temperatures."
Weather Concerns
But the same Virginia weather that supports grape growth can also turn on a moment's notice and provide a challenging environment, Wolf says. Extreme heat or cold, extended dry periods, strong winds and higher than normal rainfall can all impact grape quality, he says.
Virginia is home to six American Viticultural Areas – Monticello, North Fork of Roanoke, Northern Neck George Washington Birthplace, Rocky Knob, Virginia's Eastern Shore and Shenandoah Valley.
Barboursville Vineyards sits in the Monticello AVA, which has the state's highest concentration of wineries.
Italian-born Paschina came to Barboursville in 1991 after working for years in Italy and California. The longtime winemaker likens the growing season in the central Virginia region to that of his native Piemonte, a renowned wine-growing region in Italy.
Fifteen varieties of grapes grow among Barboursville Vineyard's 170 acres of vines, although the winemaker says they are most focused on Viognier, Cabernet Franc and Medoc.
The area's red clay soil is nutrient-rich and provides water storage capacity to help cope with frequently dry summers, Paschina says.
An Economic Development Tool
With the recent push to not only increase production but improve wine quality, Virginia's wine industry sits poised for an exciting future, Paschina says.
State leaders have taken an active role in driving this focus, Haymore says.
During his 2009 campaign, Gov. Bob McDonnell made expansion of the wine industry a top economic development platform. Once in office, McDonnell successfully pushed through a budget amendment that requires all money – rather than just a portion – collected through the state's wine liter tax to go back to the Virginia Wine Board for marketing, research and education.
As part of their efforts to promote the industry, McDonnell and his wife, along with Barboursville Vineyards and the Virginia Wine Board, planted 10 Chambourcin vines at the governor's mansion in March 2011.
The project was a nod to one of the first laws passed by the House of Commons in 1619 requiring all male colonists to plant 10 grapevines.
Grapes harvested from the Executive Mansion will be combined with fruit from Barboursville Vineyards and other wineries across the state to create a blended red wine in celebration of the mansion's 200th anniversary in 2013.
Paschina called it a "very meaningful project" that has brought together a number of people invested in the future of Virginia's wine industry.