The Ballard family started harvesting shellfish in 1895. Now, more than 115 years later, the family raises the most littleneck clams of any aquaculture business in the United States – and possibly the world. And they are rapidly becoming one of the largest producers of farm-raised oysters on the East Coast.
It was about a half century ago when visionary Chad Ballard Sr. saw the future in farm-raised fish and other aquatic species, known as aquaculture.
"He realized Mother Nature would not keep up with supply and demand and that aquaculture would be the way of the future," says Ron Crumb, vice president of Ballard Fish & Oyster Company.
Today the Ballard family directly employs 150 people at its hatcheries, nurseries and packaging facilities. The family estimates an additional 150 people have jobs through their cooperative growing relationships. The company has positioned itself to maintain its leadership in the mature clam market and serve an increasing demand for oysters.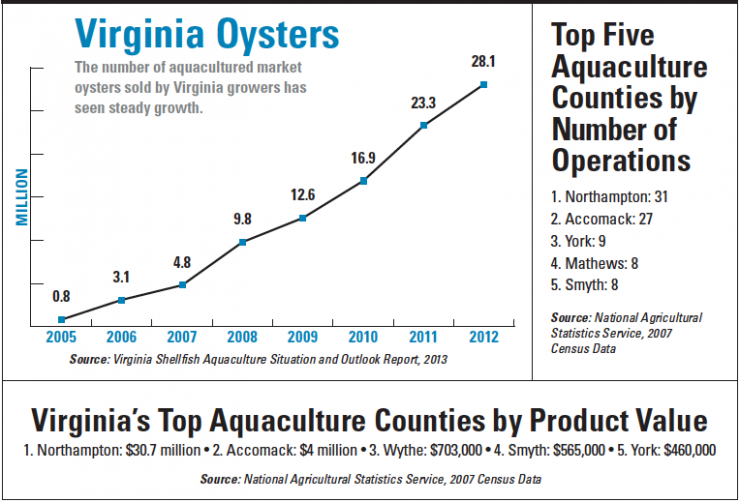 Virginia's aquaculture industry continues to grow and add significant value to the state's fish and seafood marketplace. Virginia aquaculture cash receipts in 2011 totaled $58 million, ranking fourteenth among the state's agriculture commodities.
Aquaculture works well in Virginia, says Dr. Brian Nerrie, Virginia State University aquaculture specialist. It diversifies the agricultural economy and provides environmental benefits.
"Virginia is blessed with fairly good aquatic resources, and aquaculture fits in well with that," he says. "Freshwater aquaculture is a sustainable system. We only borrow the water; we don't use it up. It can be restored or recirculated or can be used to irrigate other crops. It is a way to get production out of an underutilized resource."
Virginia's most common aquaculture species include clams, oysters, tilapia and catfish, Nerrie says. They grow in a variety of environments best suited for the species, from Virginia's coastal shellfish farms to mountainous cold-water trout culture areas. Production systems vary, too, from completely enclosed intensive culture systems to freshwater raceways.
Aquaculture farmers face some industry challenges, yet the advantages show tremendous opportunity. Aquaculture can offer an alternative or additional income to many traditional crops, boosts the local economy and provides a quality product for Virginia dinner tables, says Lynn Blackwood, chairman of the Virginia Aqua-Farmers Network.
"It supports Virginia agriculture and Virginia farms as opposed to overseas farms," he says. "It improves our economy to buy locally, and there is a real quality difference."
The industry has witnessed a large movement toward value-added products, Nerrie says. Companies now focus on ways to make the end product more desirable to the consumer.
The Virginia Aqua-Farmers Network, which includes about 20 farmers, plans to form a partnership of a commercial kitchen and state-of-the- art processing facility in southern Virginia. This would allow the cooperative to use quality fillets in marketable, easy-to-use recipes.
Today, the network's fish enter specialty markets, including high-end farmers' markets, restaurants and Internet sales within Virginia. Future products may include catfish and shrimp chowder, smoked rainbow trout and dips. With FDA acceptance, the network would be capable of shipping across state lines.
Likewise, Ballard Fish & Oyster Company beefed up its labor force and equipment to meet demands for small-pack products that are cooler-ready, Crumb says.
The company often harvests and ships their shellfish products the same day. This puts Virginia-fresh seafood on Americans' plates within 24 hours of harvest.