It's a question as old as time.
"How do we get children to eat their vegetables?"
Whether it is stuffing broccoli under a napkin or pushing Brussels sprouts across the plate, students have come up with some pretty clever ways to avoid healthy fruits and vegetables at their school lunch.
With the alarming rise of childhood obesity and health-care costs, avoiding these foods isn't the solution. However, local schools throughout Virginia have found one way to get their students eating healthy, while also supporting local producers.
In the Farm to School program, local schools connect with area producers to provide fresh, healthy and nutritious produce for school lunches. This program not only provides wholesome food to the students, but benefits school budgets, supports economic development, increases market outlets for producers and boosts access to knowledge about food and agriculture.
"Our first priority is our students," says Andrea Early, executive director for school nutrition with the Harrisonburg school system. "We want kids to eat healthier; that's our big challenge. We want them to learn to enjoy fruits and vegetables. So, if we can offer them the freshest fruits and vegetables, the ones that are picked at their peak and really delicious, then that is an opportunity to really promote healthy, fresh to kids."
Harrisonburg is one school system in Virginia with a fully implemented Farm to School program. By combining the needs of the students, schools and producers with various marketing efforts, the children become more interested in knowing where their food comes from and more invested in their nutrition. Marketing efforts include the Virginia Farm to School Week, promotion at farmers markets, dress like a farmer day, agricultural and nutritional education, cook offs, school gardens, farmer visits, farm-themed art projects and much more.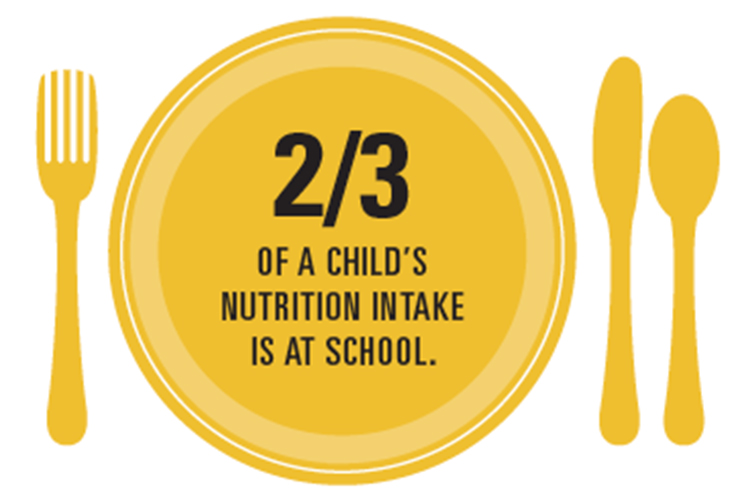 It is estimated that two-thirds of a child's nutrition intake is at school. By implementing Farm to School, nutrition and education are elevated. Students learn about the people and farms behind the food, making for a more gripping story as well as promoting lifelong eating habits and support for the local agricultural economy.
"This program is such a huge opportunity to provide support for the local farmer as well," Early says. "We work to find common ground between the foods accepted by students, needed by the schools and grown by the farmers. So it's a win-win for everyone. The real take-home message is that the program has to work for everyone involved."
More than 122 million lunches are served in Virginia public schools during the school year. If $0.25 a day per student lunch is devoted to purchasing locally grown Virginia farm products, more than $170,000 will be reinvested into the community daily, according to the Virginia Department of Agriculture and Consumer Services.
On an annual basis, more than $30.7 million will be invested into Virginia communities and the economy. This system allows schools to stay within food budgets and provides an additional market for local producers.
"Farm to School efforts have become an opportunity for social balance. Integrating nutrition and better eating choices with understanding where food comes from and teaching a deeper appreciation for the farm families and agricultural traditions that have stood the test of time," says Leanne DuBois, Virginia Grown Program Manager and state Farm to School Coordinator. "It's encouraging to see so many stakeholders working together in communities across the state to effect positive change in the future of our children. Schools, students, farmers, extension educators, health and wellness organizations, local governments, parents, volunteers, chefs, faith-based groups; it's a broad spectrum of interest levels who are stepping up to make it happen. This larger partnership community helps to reinforce and support Farm to School efforts statewide."
With its efforts to get students to accept fruits and vegetables on a daily basis, as well as connect local producers to the school and classroom, the Farm to School program is making strides to combat childhood obesity and lack of nutrition. Additionally, the program provides an opportunity to open new markets and increase sales for Virginia farmers so agriculture can remain an economically viable industry in the state.